VISUAL WORK
Landscapes
(2021)
Collage
Grief
(2020)
Charcoal on paper
1682 x 2378
Personal collection of the artist
Untitled (Porn-series)
(2019)
Charcoal on paper
841 x 1189
Untitled (Porn-series)
(2019)
Charcoal on paper
841 x 1189
Untitled
(2015)
594 x 840
pencil on paper
Exhibited at Exhibition for laureates of the 5th Tallinn Drawing Triennial, Vabaduse gallery, Tallinn (2020)
Untitled
(2016)
Paint on wall
This sentence was in a diary for over two years, yet there was never an opportunity to show this. This time was the right time. It is a work about shouting out, about trying and failing. About making a statement, about standing up and doing exactly the opposite.
Exhibited at The Super Narrative (2016), participated as artist and curator.
False Floor Installation, Moving Mountains
(2016)
Performance
These performance-exercises are not seen as finished work but as movements, frozen or broken down by time. Moving Mountains is a piece about covering your body in a safe zone. Even without moving, this coccoon will eventually break. Silk paper is stretched across the floor and watered. The body of the artist, underneath the paper, becomes visible and so is responsible for not breaking the layer. As if waking up, the artist frees herself from the paper. The residue is a wet floor covered in pieces of paper.
Exhibited and made for Salon Similde, Leipzig (2016)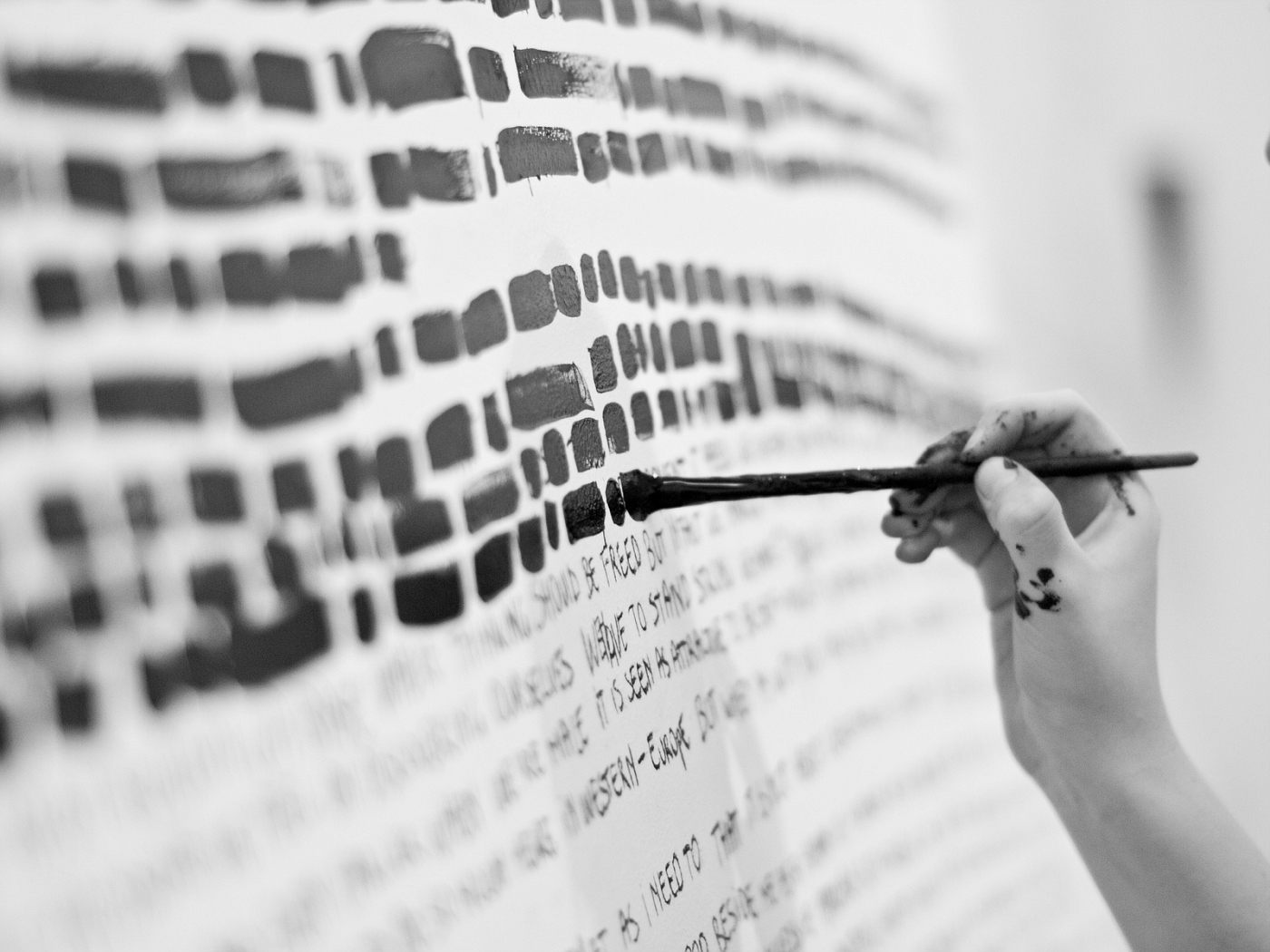 Dear Estonia
, (2015)
performance footage, paint on wall
The text, written down at the start of this exhibition is about personal experiences in between two cultures. About what is missing something, what is different and what changed due to being stuck in the middle. During the opening of this triennial a performance was held where the words were covered in black paint one by one, creating a new drawing on top of the previous text.
Exhibited at Tallinn Drawing Triennial - Must ja Valge, Kunstihoone Tallinn, Tallinn (2015) and Exhibition for laureates of the 5th Tallinn Drawing Triennial in Vabaduse gallery, Tallinn (2019)
Laureated.
Diptych about my grandmother (2016)
841 x 1189
print
These are 2 photos found in the photo collection of my grandmother. They are presumably taken on her honeymoon in the Black Forrest, in Germany. The 2 photos are printed on a large scale. They will for now be shown independently but will later on become a part of a collage/drawing.
Untitled (2015)
Paint on wall
Exhibited at Expanded Drawing, Lier (2015)
Untitled
(2015)
1189 x 841
Pencil in paper
Submarines
(2014)
210 x 297
pencil on paper
Shared on social media by Mu.Zee Jongerenplatform (2020)
About My Birth
(2014)
210 x 297
pencil on paper
Untitled
(2014)
210 x 297
pencil on paper