VISUAL WORK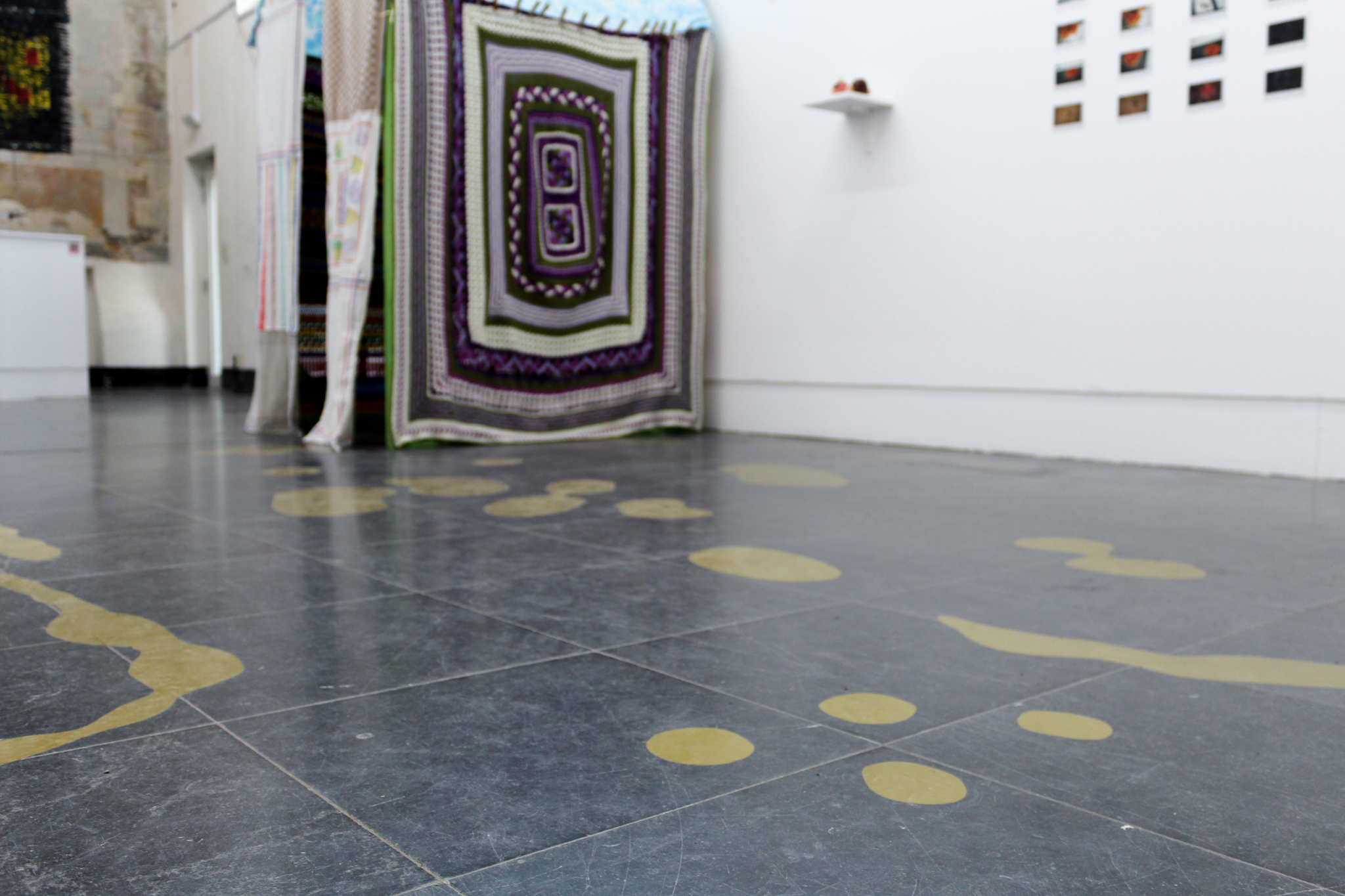 The Way Of Care / Via Cura
(2022)
Mixed Media - Floor Installation
The Via Crucis is the Christian series of images depicting Jesus Christ on the day of his crucifixion and their accompanied prayers and customs. The path grew from the imitation of the Via Dolores in Jerusalem, a traditional processional route symbolizing the path to Mount Calvary, meeting his death. The 14 stations are an objective as a help to the Christian faith to make a spiritual pilgrimage through contemplation, within churches, chapels, buildings, rooms, and houses to find guidance, strength and a score throughout a choreography that guides visitors through the space.
On the floor of the space there's a pattern of golden puddles that guide you through the space. Almost like a portal to another dimension. The installation forces you to step on or maybe step through the scars of the artist. As it's the artists way of telling the public 'You're walking over me, again'. With scars the body is the present with a well-written past.
This installation was made on request and in collaboration with
the G.O.D. collective
for a residency at Kunsthal Ghent.
NON/Ableism
(2021)
Audio installation
In collaboration with
S.O.T.A.
(State of The Arts) and
Engagement Arts
. Co-curated with Mira Bryssinck and with help of Simon Allemeersch.
NON/Ableism is an audio-installation and happening that intervenes in cultural and artistic spaces, critiquing the current ableist bias and inaccessibility of these institutions. The audio installation provides testimonies as art objects and interacts with ideas on narrativity, testimonials, witnessing and experienced truth. Visitors ars guided through personal stories and fragmentarily map stories and narratives of ableist encounters of people with disabilities working in the arts. It is an informal invitation to rethink accessibility, logics of productivity and
cripping
up the arts.
This audio installation is a result of an on-going artistic research and practice that is at the core of Josefien's practice. Together with Mira there is an unlimited ambition to continue and let this artistic archiving practice of testimonials grow into new presentations and narratives.
The Work of Mourning
(2021)
Lecture performance
In collaboration with Mira Bryssinck, Kei Sendak, Karolina Gaja Caruso, Nele Staes and Aike Roodenburg.
Work of Mourning
is a collaborative project, with a dramaturgist, choreographer, and a graphic designer, on the physiognomy of scars and what they can tell us about their impact on our bodymind. It combines medical vocabulary with insights from art-history, philosophy, and critical disability studies, throughout an artistic expression carefully designed to take you through an embodied experience of a disabled childhood.
Pictures by Michiel Devijver
The Subjective Mapping Of Scars from Josefien Cornette on Vimeo.
Installation of The Subjective Mapping of Scars (2021) at
Open M
at Museum M, Leuven (Belgium).
The Subjective Mapping Of Scars
(2021)
Score & Performance
In collaboration with Kei Sendak (BE/LAT)
The Subjective Mapping of Scars
is a collaborative project with graphic designer Kei Sendak (BE/LAT).
This project frames disability, as through discourses like gender, 'race' and class, within an intimate setting of the bodymind, enlarging its specific type of embodied knowledge, uncommunicable by words. The self care focused and mindfully designed envelope, sent to the participants, contains the material and guideline, an opportunity given to tell the story of one's corporal being. Participants are guided through a careful and attentive performance, happening within one's home, where a 1:1 blueprint is made of the marks on their body. Their shape, their consistency and its constellation are drawn as a token for survived but poorly healed skin. The result is a map about pain and trauma, ready to travel in. At last, the letter returns to the sender, who carefully collects and archives the testimonies, as a residue of the performance.
This project reflects on testimonies, collective polyvocality and challenges normative ideas on creation, archiving and participation in the arts. It shows that testimonies can be non-lingual and hybrid in their embodied existence, with a collective expression that keeps every identity individual. It is an example of trying to work with a fair practice, incorporating consent, storytelling and decision-making, calling-out current problematic uses of representation of disability in contemporary art.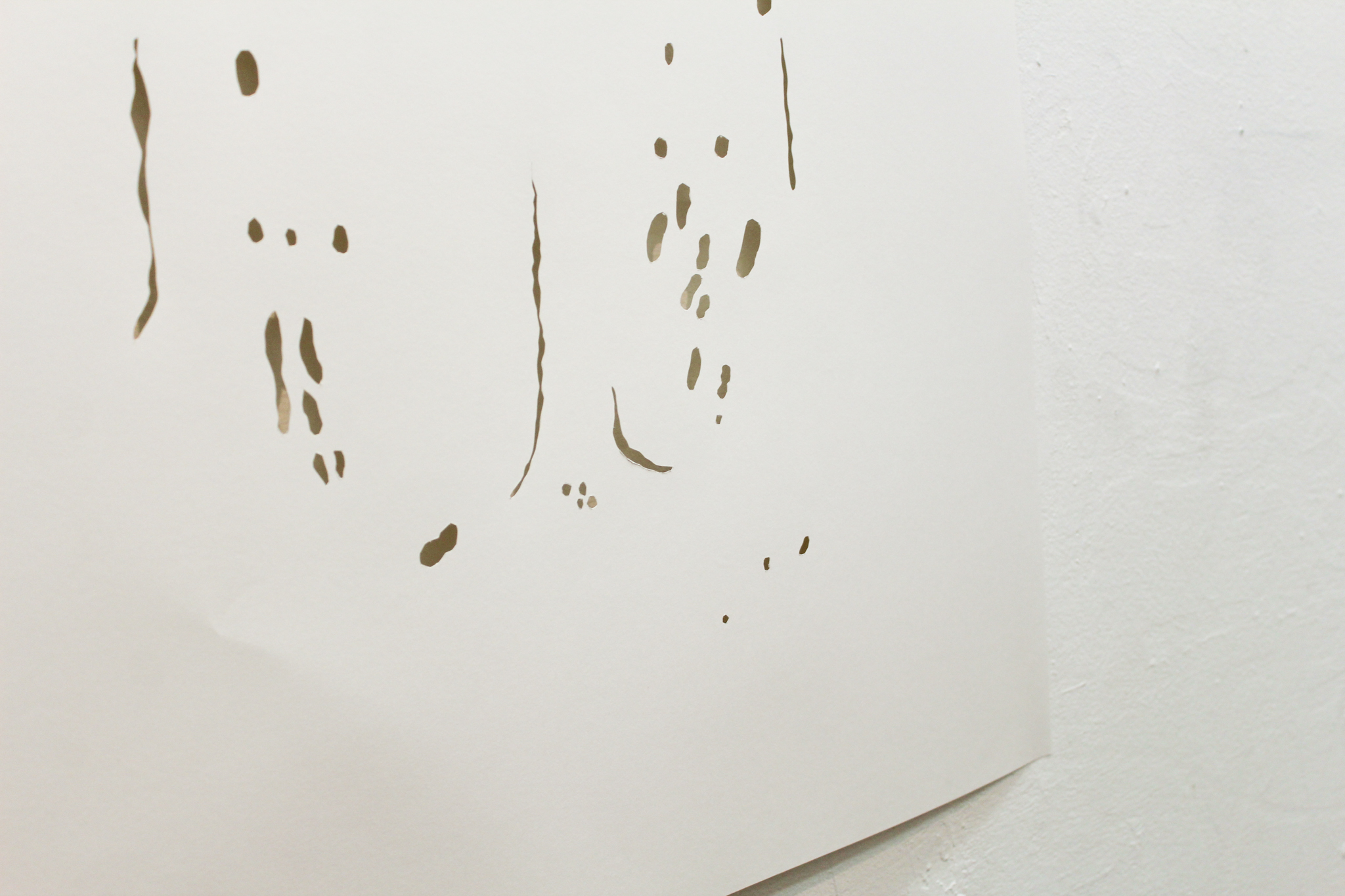 Children's Nigh Light of the Universe
(2021)
Paper
840 x 1188
Skin
(2021)
Ink on paper
297 x 420
Grief
(2020)
Charcoal on paper
1682 x 2378
Personal collection of the artist
Untitled (Porn-series)
(2019)
Charcoal on paper
841 x 1189
Untitled (Porn-series)
(2019)
Charcoal on paper
841 x 1189
Untitled
(2015)
594 x 840
pencil on paper
Exhibited at Exhibition for laureates of the 5th Tallinn Drawing Triennial, Vabaduse gallery, Tallinn (2020)
Untitled
(2016)
Paint on wall
This sentence was in a diary for over two years, yet there was never an opportunity to show this. This time was the right time. It is a work about shouting out, about trying and failing. About making a statement, about standing up and doing exactly the opposite.
Exhibited at The Super Narrative (2016), participated as artist and curator.
False Floor Installation, Moving Mountains
(2016)
Performance
These performance-exercises are not seen as finished work but as movements, frozen or broken down by time. Moving Mountains is a piece about covering your body in a safe zone. Even without moving, this coccoon will eventually break. Silk paper is stretched across the floor and watered. The body of the artist, underneath the paper, becomes visible and so is responsible for not breaking the layer. As if waking up, the artist frees herself from the paper. The residue is a wet floor covered in pieces of paper.
Exhibited and made for Salon Similde, Leipzig (2016)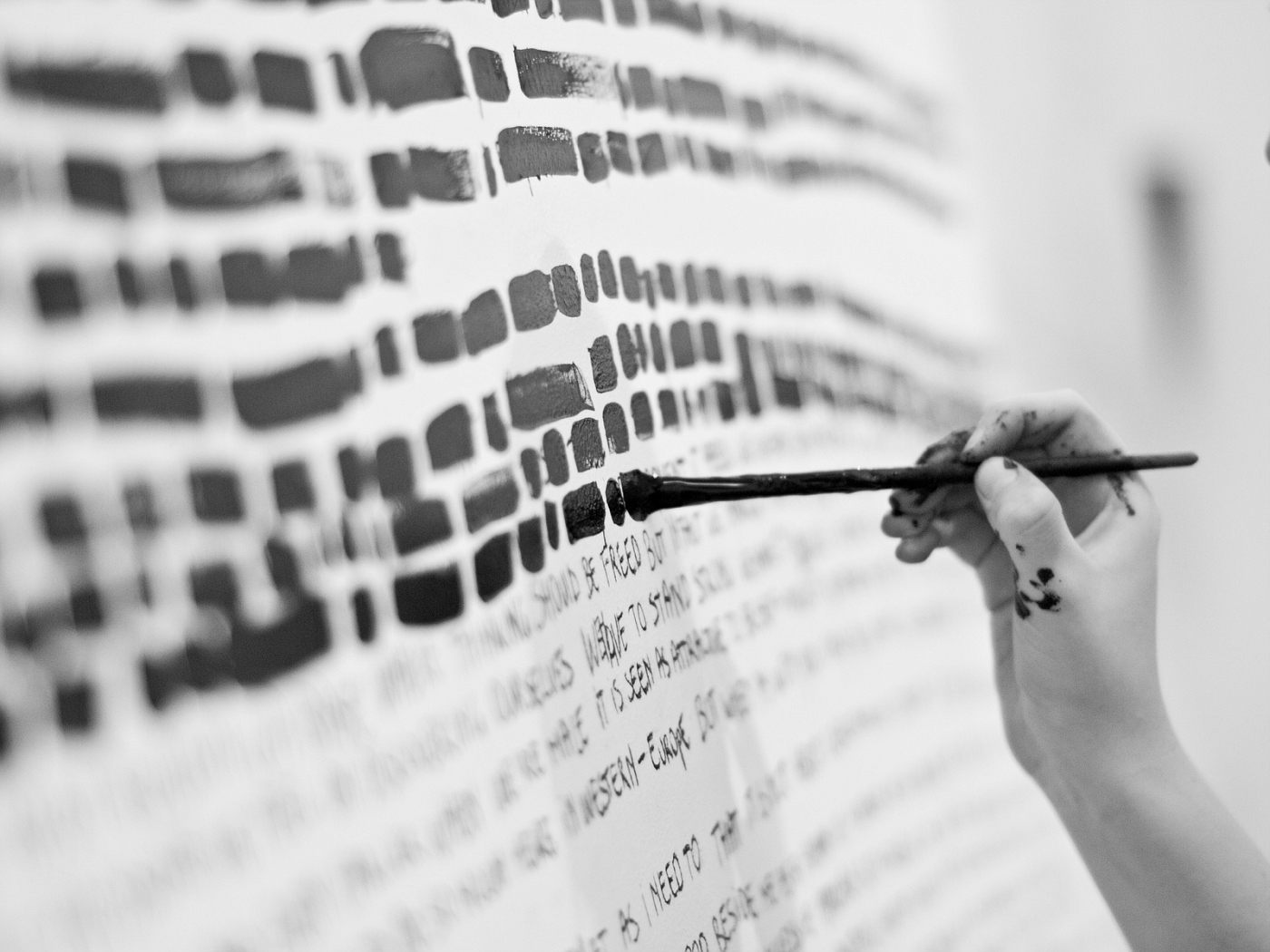 Dear Estonia
, (2015)
performance footage, paint on wall
The text, written down at the start of this exhibition is about personal experiences in between two cultures. About what is missing something, what is different and what changed due to being stuck in the middle. During the opening of this triennial a performance was held where the words were covered in black paint one by one, creating a new drawing on top of the previous text.
Exhibited at Tallinn Drawing Triennial - Must ja Valge, Kunstihoone Tallinn, Tallinn (2015) and Exhibition for laureates of the 5th Tallinn Drawing Triennial in Vabaduse gallery, Tallinn (2019)
Laureated.
Diptych about my grandmother (2016)
841 x 1189
print
These are 2 photos found in the photo collection of my grandmother. They are presumably taken on her honeymoon in the Black Forrest, in Germany. The 2 photos are printed on a large scale. They will for now be shown independently but will later on become a part of a collage/drawing.
Untitled (2015)
Paint on wall
Exhibited at Expanded Drawing, Lier (2015)
Untitled
(2015)
1189 x 841
Pencil in paper
Submarines
(2014)
210 x 297
pencil on paper
Shared on social media by Mu.Zee Jongerenplatform (2020)
About My Birth
(2014)
210 x 297
pencil on paper
Untitled
(2014)
210 x 297
pencil on paper